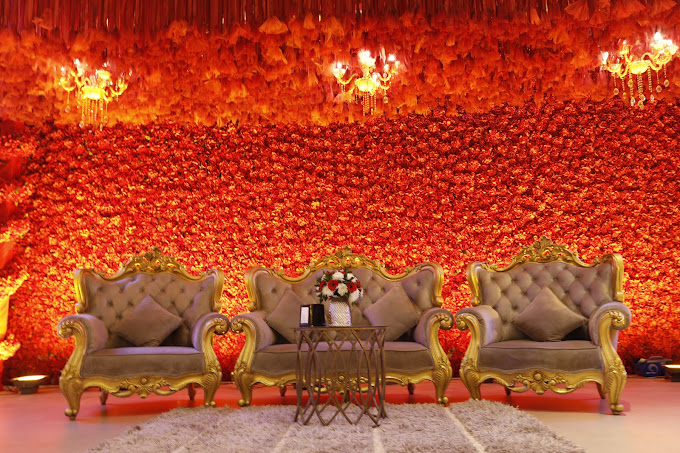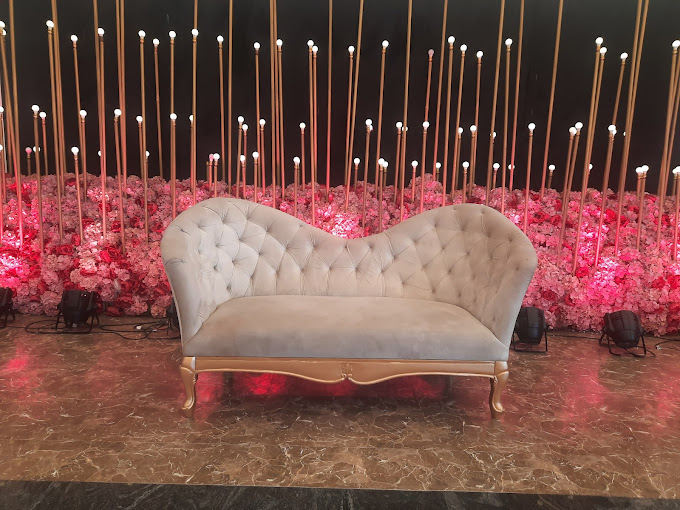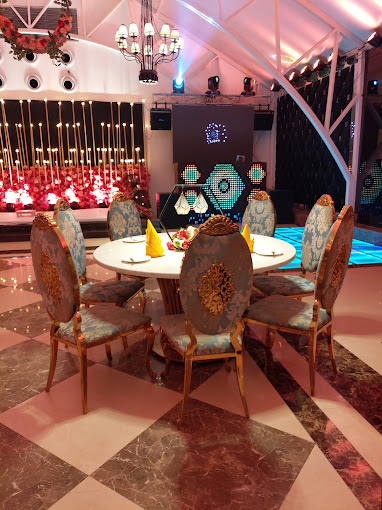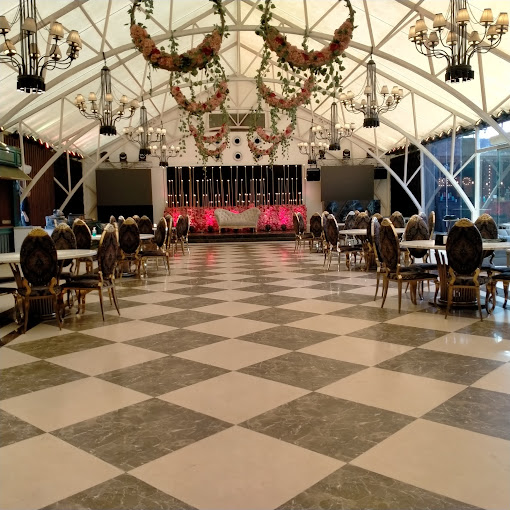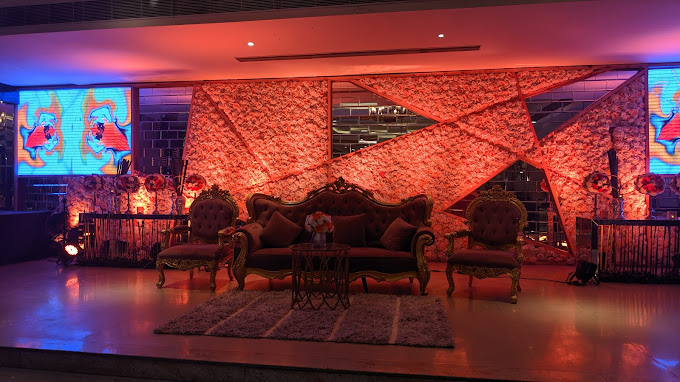 The Grandeur by Lavanya banquet
A-15, Mahatma Gandhi Road, Block A, Wazirpur Industrial Area, 110052, Delhi, Delhi
400 seating | 700 floating
400 seating | 700 floating
200 seating | 300 floating
Discover the best of The Grandeur by Lavanya banquet
No image available
Lock this chosen venue for your big day!
Fast-Track Booking: Direct Access to Decision Makers
Exclusive Deals and Discounts: Lowest Price Guaranteed
Expert Assistance: Handle venue visits to finalizing booking seamlessly
No Spam: We value your privacy!
Enter your details to get started!
Why Stop at the Venue?
Get Much More with Betterhalf!
Betterhalf ensures your big day is both flawless and budget-friendly.
Expertise Meets Passion
Our seasoned planners turn your vision into reality.
Here's the proof!
Choosing a venue was so easy with our planner, Moupriya. She really understood what we wanted.
Our planner, Vinodh really got our style and preferences. Our wedding felt so uniquely 'us'.
Radhika, our planner, made our wedding day worry-free. We focused on fun, they took care of the rest.
Witness the magic we create, one at a time.
A sneak-peek of our customers' experience
Let our expert planners craft your special day
Unlock best venues as per your budget
Get a perfect proposal in your budget for FREE
800+ Flawless, Stress-Free Celebrations
Enter your details to get started!
Explore nearby venues
Loading...
The Grandeur by Lavanya banquet in Ashok Vihar, Delhi

Have you always dreamed of a royal and palace-like wedding venue to take your matrimonial oaths as the king and queen? Dreams do come true, however big or small they are! The Grandeur By Lavanya Banquet is a majestic palatial venue in the heart of Delhi, perfect for hosting a luxurious grand wedding. Whether you are planning to get hitched during the day or host a night wedding, The Grandeur by Lavanya Banquet Moti Nagar has imperial interiors that is sure to make everyone entering it feel like royalty. Check out The Grandeur by Lavanya Banquet photos to witness our claim and start planning your wedding according to their themed interiors. The aesthete white and gold lighting perfectly complements the vintage marble and granite flooring. The chairs scream regality and are intricately detailed with black and gold piping and fabric. Although the architecture exudes noble and stately vibes at every corner, this venue stands tall when it comes to infusing contemporary amenities and state-of-the-art facilities. They have a dance floor, pre-function lounging area, indoor banqueting, and live food stations making it among the modern wedding venues in Wazirpur to host a grand gathering. With 3 banquet halls and a capacity to host up to 700 guests in each hall, you do not have to worry about shortlisting all your close friends and family. We have listed down some interesting pointers about The Grandeur by Lavanya Banquet Delhi for you to confirm that this venue is the answer to all your prayers for a splendid wedding venue.

3 Reasons To Tie Your Knot At The Grandeur By Lavanya Banquet Delhi

Although The Grandeur by Lavanya Banquet is an all-rounder and speaks for itself, we have short-listed 3 top reasons why this wedding venue is the best bet in Delhi!

Value For Money
This 3-storeyed grand luxurious wedding venue is nothing short of a 5-star hotel, yet guess what? The Grandeur By Lavanya price has been maintained to be affordable so every Delhiite can experience the taste of a royal wedding and live your dreams on your best day. This unmatched price when compared to the other Delhi wedding venues is surely a jackpot. Go hit it!

Accessible Location and Valet Parking
It is common knowledge that in a populous city like Delhi, it is not always easy to get to a crowded place like a wedding venue. But the specialty of The Grandeur by Lavanya Banquet is that it is located bang on the Main Ring Road at Ashok Vihar and the awe-inspiring mansion stands bold and can't be missed. Secondly, the venue offers valet parking for all your guests relieving you and your guests off the stress of having to walk the roads all dressed up. With well-known metro stations like Shalimar Bagh and bus stops like Ashok Vihar Crossing (Ashok Vihar Xing) at a walkable distance, the venue is also well-connected to public transportation.

Ambiance
The Grandeur by Lavanya Banquet's spirit combines minimalism and grandeur. The abundance of golden lights scattered across this wedding location perfectly complements the beige walls and intricately carved furnishings. The entryway is valiantly lit and makes for the best bride and groom entry pictures. All three floors are theme-coordinated and have Instagrammable spots for you and your guests to snap away and add your wedding hashtags!

Events Hosted at The Grandeur By Lavanya Banquet Delhi

Did you know that The Grandeur by Lavanya Banquet can actually suit all your wedding venue needs from engagements to receptions and afterparties? Yes, this banquet hall in Wazirpur has 3 different wedding venues of varied sizes to cater to crowds of all sizes. While you can host your engagement and wedding in the huge wedding venues on the ground and first floor, each with a maximum capacity of 700 guests, the second-floor wedding hall with a capacity to accommodate up to 300 guests at maximum is best suited for intimate receptions. You will be relieved to learn that you may host not only weddings but also your pre and post-wedding parties thanks to a lavishly spacious venue, efficiently managed valet parking, and scrumptious eating options. The Grandeur By Lavanya Banquet kindly hosts the ensuing occasions all year long.

Receptions
Engagement Parties
Mehndi and Sangeet Ceremonies
Bridal Showers and Bachelor/Bachelorette Parties
Haldi Ceremonies
Post-Wedding Brunches
Destination Weddings
Cultural and Religious Ceremonies

Be enthralled by the magic of this wedding venue by booking it for all your wedding needs.

What Makes The Grandeur By Lavanya Banquet Moti Nagar Special?

The Grandeur By Lavanya Banquet never compromises on their quality, rather they are generous with their hospitality as they consider their clients' satisfaction as their best reward. Three distinct indoor wedding venues are offered, each with a large capacity for all of your beloved family and friends. Their menu features mouthwatering platters, chats, and delectable North Indian and Mughlai cuisine.  They also provide their guests with the following amenities for a luxurious wedding experience that they will remember forever.

Spacious Event Areas- 3 stunning halls of all ranges across 3 floors
Climate Control - rain or shine, your events proceeds per plan at this indoor venue 
Ample Parking - valet parking is provided for all your guests
Modern Audiovisual Equipment - stately equipment for smooth ceremonies
Banquet and Dining Areas -spacious dining spaces with elaborate buffet and live food stations
Restrooms and Changing Rooms - 1 complimentary changing room
Wi-Fi Connectivity - can be requested during booking
Outdoor Lounge Areas - state-of-the-art entrance and pre-function spaces
Wheelchair Accessibility - to be confirmed while booking
Backup Power Supply - available at all times

The Grandeur By Lavanya Banquet has been considered auspicious by their clients and the gracious service offered by their staff keeps bringing the clients back for another beautiful wedding in their family!

Local Attractions 

The Grandeur By Lavanya Banquet Ashok Vihar is close to a lot of kid-friendly attractions and family-friendly green areas. The locals are welcoming and helpful because there are numerous colleges and schools nearby. 

Pacific Mall NSP Pitampura 
A 4-minute drive from the wedding venue is the Pacific Mall, which is a local's favorite for hanging out and shopping. While you are here for the wedding, you can drop by for some last-minute wedding gifts for the bride and groom or indulge yourself in well-deserved retail therapy. This mall also has some children's play zones if parents want to drop their children off and decompress for a while. 

PVR Cinemas
A 5-minute drive from the venue, is the PVR Cinemas, a 4-screen multiplex that shows Hindi and English-language films. From their entrance to the toilets, they are entirely wheelchair friendly. All those years that you missed hanging out with your cousin and friends because you were adulting, you can now use this as a chance to drop in for a movie while you have finally met each other.

Rashtriya Swabhiman Khel Parisar
At a 4-minute drive from the wedding venue is this amazing sports complex with separate turfs for badminton, a huge swimming pool, a cricket and football court, etc. You can access it for a small, reasonable fee. They are open all days except Mondays. If you are not a sports fanatic, you can also choose to simply hang out in the neatly manicured lawns with your family. The locals love to hang out here during the rains, as the entire place looks extra beautiful with Mother Nature's magic.

Venue Policies At The Grandeur By Lavanya Banquet Moti Nagar

Booking and Reservation:- They are booked on a first-come basis.
Catering and Outside Food:-They only allow in-house catering.
Alcohol Service:- Alcoholic beverages are not served in-house, however, alcohol from outside is permitted
Decor and Styling:- Decorators can be hired from the enlisted panel of decorators.
Smoking Policy:- Smoking is not allowed on the premises of the wedding venue.
Noise Levels:- The neighborhood is active and lively, but it doesn't become chaotic.
Guest Safety:- The location is secure, the crime rate is typically low, and security officers are provided at the venue to assure safety.
Security and Damages:- The security deposit may be reduced for any damage caused during the event.
Pets and Animals:- In general, pets are not permitted in the location. To find out if they accept other animals and guide dogs, you can speak with management.
Refund and Cancellation:- Refund and cancellation rules vary from case to case. You can confirm their refund and cancellation policy during booking confirmation.

For the most magical royal wedding, tie your knots at The Grandeur By Lavanya Banquet. Block your dates now and party later!