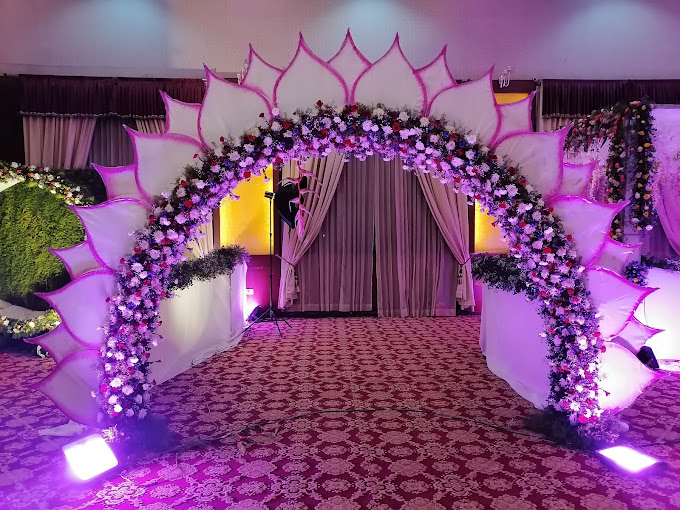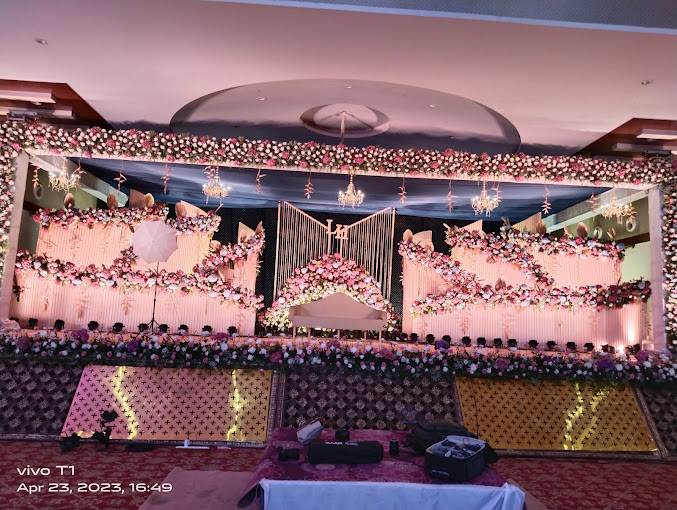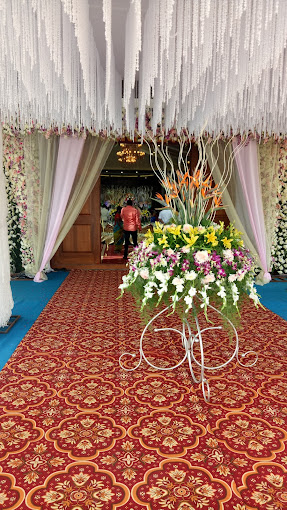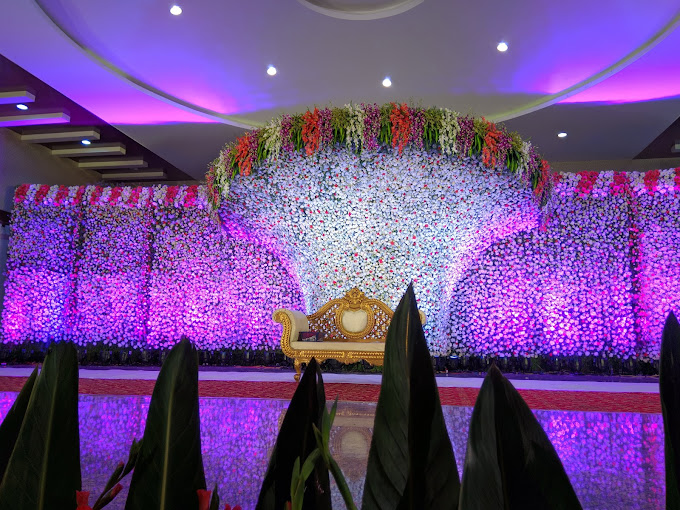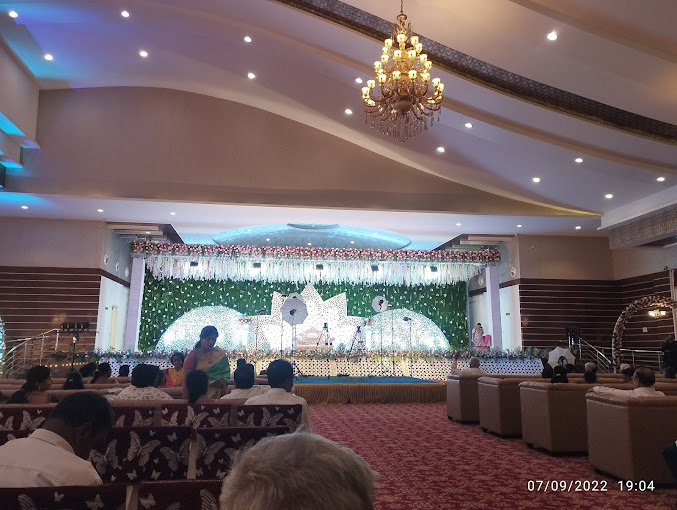 WMXW+HRM, Tulsi Theater Rd, Marathahalli Village, Marathahalli, 560037, Bengaluru, Karnataka
250 seating | 400 floating
Discover the best of SBR Palace
No image available
Lock this chosen venue for your big day!
Fast-Track Booking: Direct Access to Decision Makers
Exclusive Deals and Discounts: Lowest Price Guaranteed
Expert Assistance: Handle venue visits to finalizing booking seamlessly
No Spam: We value your privacy!
Enter your details to get started!
Why Stop at the Venue?
Get Much More with Betterhalf!
Betterhalf ensures your big day is both flawless and budget-friendly.
Expertise Meets Passion
Our seasoned planners turn your vision into reality.
Here's the proof!
Choosing a venue was so easy with our planner, Moupriya. She really understood what we wanted.
Our planner, Vinodh really got our style and preferences. Our wedding felt so uniquely 'us'.
Radhika, our planner, made our wedding day worry-free. We focused on fun, they took care of the rest.
Witness the magic we create, one at a time.
A sneak-peek of our customers' experience
Let our expert planners craft your special day
Unlock best venues as per your budget
Get a perfect proposal in your budget for FREE
800+ Flawless, Stress-Free Celebrations
Enter your details to get started!
Explore nearby venues
Loading...
SBR Palace in Marathahalli, Bangalore

SBR Palace sets the gold standard for elegance and tradition. As a spectacular and classic venue, it perfectly caters to couples desiring an affordable yet chic backdrop in Bangalore. A quick glance at the SBR Palace photos showcases its immaculate environment, further enhanced by the warmth that radiates through every corner. The team at SBR Palace Bangalore is always cordial and ever-ready to assist, ensuring that every event is seamlessly orchestrated. Given its prime location, accessibility is a breeze for guests. Reflecting on wedding venues, SBR Palace Marathahalli stands out not just for its ambience but also for the competitive and affordable price. When the occasion calls for grandeur without breaking the bank and elegance, this venue emerges as the quintessential choice.

Discover Why SBR Palace Bangalore Is Your Ideal Wedding Destination

SBR Palace seamlessly combines modern facilities with an aura of classic charm. This venue not only promises top-notch amenities but also an environment that makes every moment unforgettable. 

Inviting Atmosphere:

The welcoming vibe at this venue envelops guests from the moment they step in, creating an environment that feels both intimate and celebratory.

Outstanding Value:

Considering its offerings, the SBR Palace cost is incredibly competitive, making comfort and elegance accessible without straining your budget.

Friendly and Efficient Team:

The staff at this venue is more than just employees, they are a dedicated team ensuring every detail is in place and every guest feels valued.

Exceptional Culinary Offerings:

SBR Palace prides itself on its culinary expertise, offering a diverse range of delectable dishes that cater to varied tastes and preferences.

Among the myriad of wedding venues in Bangalore, this one shines brilliantly. It is where elegance meets memories, making every celebration truly special. 

Ideal Wedding Celebrations to Host at SBR Palace

At SBR Palace, every occasion transforms into a grand celebration. From intimate gatherings to grand festivities, the palace elevates each event. 

Events Hosted:

Exquisite Receptions
Intimate Engagement Soirees
Traditional Mehndi and Sangeet Festivities
Lavish Bridal Galas and Pre-wedding Functions
Sacred Haldi Rituals
Delightful Post-Nuptial Brunch Gatherings
Exotic Destination Matrimonies
Spiritual and Cultural Rites.

With SBR Palace as your chosen venue, every event becomes a memorable tale, celebrated in style and elegance. 

Facilities and Amenities

This venue boasts an array of distinct amenities and characteristics, including: 

Spacious Event Area
Temperature Management
Vehicle Accommodation
Audiovisual Tools
Elegant Banquet and Feasting Hall
Convenient Washrooms and Dressing Rooms
High-Speed Internet Access
Serene Outdoor Relaxation Spots
Thoughtfully Designed Wheelchair-Friendly Routes
Reliable Emergency Power Systems

With these premium amenities, the venue assures a seamless affair, merging opulence and convenience seamlessly. 

Venue Policies
Booking and Reservation- 25% of the total amount has to be deposited in advance.
Catering and Outside Food- The venue offers in-house catering services, but also welcomes external caterers for your convenience. 
Alcohol Service- The venue provides in-house alcohol service, while outside beverages are not permitted.
Decor and Styling- External decorators are allowed within the venue premises.
Smoking Policy- Indoor smoking is not allowed.
Noise Levels- While soft and gentle music is permitted, loud sounds are limited post-evening. 
Guest Safety- An ambulance is readily available for unexpected emergencies.
Security and Damages- You will bear the financial liability for any damage or harm inflicted on the property.
Pets and Animals- The venue does not permit the entry of pets. 
Refund and Cancellation- Booking in Non-Cancellable  

Discover one of the finest banquet halls in Bangalore at SBR Palace. Don't wait, book now and make your event truly unforgettable!